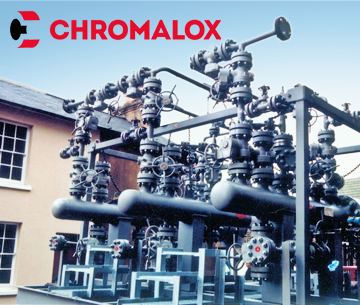 Irving Place Capital Agrees to Sale of Chromalox, Inc. for $415 Million
May 26, 2017
NEW YORK & PITTSBURGH—(BUSINESS WIRE)—Private equity firm Irving Place Capital ("IPC") and Chromalox, Inc. ("Chromalox"), a thermal technology company, announced today that they have entered into a definitive agreement to sell Chromalox to Spirax-Sarco Engineering plc ("Spirax-Sarco", LSE: SPX), a UK-based company specializing in the control and efficient use of steam and other industrial fluids, for $415 million in cash. Completion of the transaction is subject to customary closing conditions.
Chromalox is a technology company that delivers temperature management and process heating solutions for customers in a diverse range of industrial markets. With a century of experience, a global footprint, and the most comprehensive suite of heating and control products in the industry, Chromalox is recognized as a premier brand in the process heating market. Chromalox was founded in 1917 and is headquartered in Pittsburgh, PA. IPC acquired Chromalox in December 2012.
"It has been a pleasure to work with the team at Irving Place Capital. In particular, their support of our growth planning process has enabled Chromalox to develop multiple innovative technologies, without peer in the industry, providing the foundation for future growth," stated Mike Sutter, President and CEO of Chromalox. "We are excited to become part of Spirax-Sarco and leverage our combined capabilities to expand and develop our business."
"Chromalox is a unique, highly diversified company with a deep history as a technology leader. The management team has done an exceptional job and positioned the company for continued success. We wish our management partners and all Chromalox employees the very best as they join Spirax-Sarco," said Keith Zadourian, a Partner at IPC.
Since 2012, Chromalox's management team, with the support of IPC and its dedicated resources, has executed numerous strategic initiatives, including investing in key technology platforms, accelerating new product development, expanding into new geographies and enhancing productivity efficiencies. These initiatives have enabled Chromalox to solidify and improve upon its position as a leader in the global thermal management market.
UBS Investment Bank and Greenhill & Co., LLC acted as financial advisors to Chromalox, and Weil, Gotshal & Manges LLP served as legal counsel on the transaction.
About Chromalox
Chromalox is a thermal technology company that engineers thermal solutions for the world's toughest industrial heating applications. Chromalox goes to market globally across three business segments. The Heat Trace segment delivers temperature management solutions for piping systems, valves, and tanks. The Industrial Heaters and Systems segment delivers process heating solutions for revenue-generating industrial processes, and the Component Technologies segment delivers component heating solutions for industrial equipment manufacturers.