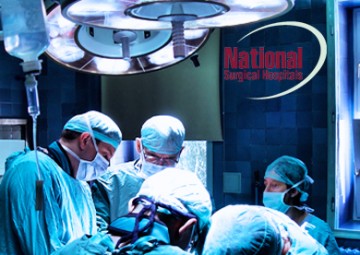 NATIONAL SURGICAL HEALTHCARE TO ACQUIRE A MAJORITY INTEREST IN OPTIM HEALTHCARE, THE LEADING ORTHOPEDIC HEALTHCARE PROVIDER IN SOUTHEAST GEORGIA
April 21, 2015
CHICAGO – National Surgical Healthcare, an owner and operator of surgical hospitals and surgery centers in partnership with local physicians, today announced that it has agreed to acquire a majority interest in Optim Healthcare, headquartered in Savannah, Georgia. Optim is a fast-growing, integrated, orthopedic-focused health system with a reputation for clinical excellence and strong brand awareness across the region. The acquisition, which marks NSH's initial entry into Georgia, is subject to approval by the U.S. Federal Trade Commission under the Hart-Scott-Rodino Antitrust Improvements Act of 1976 and other customary closing conditions. The transaction is expected to be completed in the second quarter of 2015.
Headed by 27 physician shareholders, and with 20 additional physicians in its expansive provider network, Optim provides musculoskeletal healthcare to residents of 19 counties in Southeast Georgia through its flagship 25-bed orthopedic-focused critical access hospital in Reidsville and an ambulatory surgery center in Savannah. Optim's network also includes two 25-bed critical access hospitals in Sylvania and Millen, seven outpatient physical and occupational therapy clinics, two full-service imaging centers, and eight rural health clinics. In 2014, Optim facilities treated more than 62,000 patients.
Commenting on the announcement, David Crane, Chairman and Chief Executive Officer of NSH, said, "We are pleased to announce this next step in our company's growth, a transformational partnership with the leading orthopedic group in Southeast Georgia. With its musculoskeletal focus and reputation for strong clinical outcomes and high quality patient care, Optim and NSH are an ideal fit. We are excited about our new partnership with Optim and look forward to working together to grow the organization's capabilities and presence throughout the area."
Dr. John George, Optim's lead physician partner, added, "As we considered the opportunities ahead for Optim and the increasingly complex business landscape for our practice, we realized that additional skills and capabilities would be needed to reach our goals and capitalize on new prospects for growth. We believe National Surgical Healthcare can deliver the expert management skills, administrative support, and strategic insight necessary for Optim Healthcare to continue its journey toward further success. At the same time, this will ensure that Optim will fulfill its mission of providing patients with the highest quality care and will continue to provide healthcare to medically underserved areas in Southeast Georgia."
NSH is a leading owner/operator of musculoskeletal-focused surgical hospitals and ambulatory surgery centers nationwide. A leader in clinical outcomes, NSH partners with leading orthopedic surgeons and neurosurgeons in its 19 facilities across the country to provide cost-efficient, high-quality patient care. For more information about NSH, visit the company's website at www.nshinc.com.