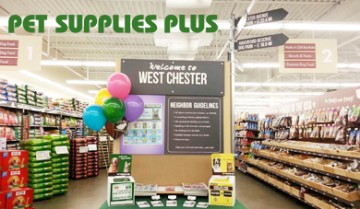 Pet Supplies Plus Signs Steady Stream of New Franchise Deals with Eager Entrepreneurs
January 9, 2015
LIVONIA, Mich.–(BUSINESS WIRE)– From organic food to dog toiletries to the $5 billion Americans spend on pet-oriented holiday gifts, the number of new pet products being brought to market continues to skyrocket each year. As limited aisle space prevents traditional big box retailers from fulfilling the non-stop demand of pet owners, entrepreneurs eager to gain access to the growing $58 billion pet industry are flocking to specialty pet stores to sign franchise deals.
Capitalizing on the burgeoning opportunity is Pet Supplies Plus, the largest pet retail franchise in the country. In 2014, the 26-year-old pet retailer with more than 300 stores in 24 states opened a total of 10 franchise and 20 corporate stores. This adds up to 10 percent total growth of the company and marks the entry into two new states.
Through deals inked with 17 new franchisees in 2014, Pet Supplies Plus plans to carry this momentum throughout this year. The chain is on pace to open a total of 25 franchise stores next year. The retailer plans to grow its already solid presence in Atlanta, Raleigh, Tampa, Minneapolis and St. Louis, while also introducing Denver, Houston, Nashville and Memphis to its friendly neighborhood pet store feel.
Pet Supplies Plus credits this growth, in part, to the growing trend of Americans spending extra dollars on their pets, but the main reason for the explosive growth is due to the major changes that have been made within the company over the past few years.
"The pet industry has shown no signs of slowing down, in fact, it is projected to increase 4 percent annually. Everywhere you look, there is a new, innovative pet product brought to market that needs a store shelf to be sold on," said Alex Roberts, Vice President of Franchising. "Pet Supplies Plus is the largest pet retail franchise in the country and the best opportunity for entrepreneurs to get into the continuously growing industry. Our goal is to open more than 200 franchise locations in targeted markets over the next five years and we have built a strong infrastructure to do so."
In 2010, Pet Supplies Plus was acquired by the private equity group, Irving Place Capital. Since then, the company has built a new 760,000+ square-foot distribution center and introduced a new "neighborhood-centric" prototype for all of its new stores, which boasts a layout emphasizing convenience, functionality and pet interaction. Earlier this year, Pet Supplies Plus bolstered its leadership team by hiring Roberts to spearhead continued franchise expansion.
Founded on the idea that convenient, quality service for busy neighbors was lacking in the pet industry, retail veterans, Jack Berry and Harry Shallop, opened the first Pet Supplies Plus store in Redford, Michigan. Since then, the neighborhood-style pet store has become a household name in 25 states.