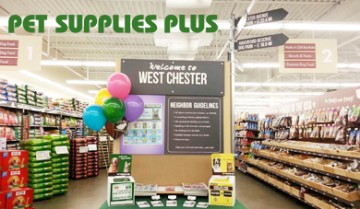 No Begging Necessary for Consumer Demand in the Pet Industry
March 18, 2014
LIVONIA, Mich. (GLOBE NEWSWIRE) — With 82.5 million homes across America having a pet as an official family member, the $55.7 billion pet industry continues to skyrocket, projected to grow by 4 percent annually over the next four years.
Among those responding to the unstoppable demand is Pet Supplies Plus, a 25-year-old franchise with nearly 300 stores. Last year alone, Pet Supplies Plus opened 18 new franchise and corporate stores and will increase its unit count by 10 to 15 percent each year moving forward, focusing on opening both corporate and franchised stores in new and underserved markets.
To prepare for the accelerated growth, executives invested in strengthening infrastructure, expanding the store support center team for both corporate and franchised stores, and introduced a new "neighborhood-centric" prototype. The pet retail chain also built a new 760,000+ square-foot distribution center.
In 2014, the retail chain will specifically target fast growing markets from Florida to Minnesota; including great trade areas in Oklahoma, Nebraska, Missouri, Tennessee, Louisiana, Arkansas, Alabama, Mississippi, Georgia and Texas for franchise development.
"One of the reasons for the continued heightened demand in the pet products industry is the humanization of pets," said Dave Bolen, President and CEO of Pet Supplies Plus. "We've responded to that trend by conveniently locating our stores in neighborhoods and making our stores friendly for the neighbors who want to bring their pets shopping. We've enhanced our shopping experience, emphasized Made-in-the-USA pet consumables, natural and organic pet food and offered in-store pet services that drive traffic and customer loyalty. Now, we're looking to find business savvy franchise partners who share a passion for pets who want to be an integral part of their community."
Pet Supplies Plus is offering refreshed franchise opportunities to entrepreneurs. In addition to a new prototype boasting a layout emphasizing convenience, functionality and pet interaction, the pet retail franchise recently began offering a smaller prototype for rural markets for a lower rate of investment.
Founded on the idea that convenient, quality service for busy neighbors was lacking in the pet industry, retail veterans, Jack Berry and Harry Shallop, opened the first Pet Supplies Plus store in Redford, Michigan. Since then, the neighborhood-style pet store has become a household name in 23 states. Pet Supplies Plus was acquired by private equity group Irving Place Capital in 2010.