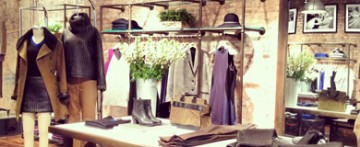 John Howard Provides Insights at Cohn Reznick's 2014 Retail Outlook Dinner
October 29, 2013
In October 2013, CohnReznick's Retail and Consumer Products Industry Practice hosted a dinner for more than 100 executives to address the economy, the consumer, business trends and outlook, as well as topics of the day, omni-channel integration, the Amazon effect, and M&A activity. Moderated by Richard Schurig, CohnReznick's Retail and Consumer Products Industry Practice Leader, the panel featured experts from private equity, retail and consumer products, including John Howard, CEO of Irving Place Capital; David Jaffe, CEO & President of Ascena Retail Group; Michael Diamant, CEO & Co-Founder of Skip Hop; as well as CohnReznick's Director of Economic Research, Patrick O'Keefe.
Retail's Economic Outlook
O'Keefe opened the program with an economic analysis of the state of the consumer. He started the conversation with a brief summary of consumer importance in the U.S. and global economy, noting that consumers are responsible for 69% of domestic GDP, which comprises about one-quarter of global output. In 2012, O'Keefe noted, consumer spending totaled $11.15 trillion, 43.8% of which is retail.
"More than two-fifths of consumer spending occurs in the retail sector. And because retail involves discretionary purchases, it is the accordion of the U.S. economy, expanding and contracting as households adjust to changing conditions," said O'Keefe.
Since the Great Recession began at the end of 2007, the U.S. economy has grown 4.5% in real (i.e., inflation-adjusted) terms, less than 1% per year. That compares with average annual growth of 3.5% from 1930 through 2007. Virtually all of that growth is attributable to increased household spending.
After four years of a lukewarm recovery, the U.S. has about 2% fewer jobs than prior to the start of the downturn. There are 400,000 fewer retail jobs. Weak job growth has hobbled the consumer and the retail sector, and the consumer hasn't fully come back in terms of sentiment and discretionary spending.
The economy has been growing since mid-2009; and real after-tax incomes are up 6.7%, which has improved purchasing power. But those gains aren't fully reflected in retail sales, which, when adjusted for inflation, are only 2.0% higher than prior to the downturn. In addition to the slow growth in total sales, there has been a steady shift to toward e-tailing (transactions done via the internet or telephone), which since the end of 2007has increased its share of all retail transactions from 5.6% to 8%. "This is the service sector's industrial revolution," stated O'Keefe, "and there's no turning back."
The good and not-so-good news.
Credit card balances have dropped to 30% of total consumer credit, the lowest level since 1990, as consumers are living within their means and managing their cash. That, combined with lower interest rates and $1.3 trillion (12.4%) less in mortgage balances, gives households an annualized $350 billion more to spend or save. And with gas prices down (and expected to fall further) and incomes rising, households should have even more purchasing power in the coming holiday season.
Further, the Thomson Reuters/University of Michigan consumer sentiment index is well off its recession lows. In August, its three-month average was at a 6 year high (but still below the series' long-term average). Unfortunately, it appeared that growing political rancor was exacting a toll on consumer confidence.
Is the slow growth a new normal or a temporary hiatus?
The trend rate of growth in America is slowing, according to many analysts. CohnReznick sees the recent subdued pace of growth continuing through the remainder 2013 with a lift in 2014. We anticipate a similar trend for retail sales.
With 3,800 stores under the dressbarn, maurices, Justice, LaneBryant, and Catherines banners, David Jaffe has a good pulse on the shopping behavior of the American female. In the past six months, he's seen a tougher environment for apparel as the discretionary dollar shifted to durables, home furnishings, and autos. Purchases that were postponed through 2012 are now benefitting Home Depot as the consumer feels more confident buying larger ticket items.
From John Howard's vantage point, with investments in brands and retailers such as dots, rag & bone, and New York & Company, we are in a bifurcated recovery. Many stores are struggling with declines in foot traffic, while e-commerce is booming. Shopping behavior has changed, reflecting a younger consumer very connected and tech-savvy who is shopping online and using mobile for access to everything. Social media is replacing traditional marketing for this demographic.
Living the omni-channel dream: the challenges and benefits of omni-channel retailing
In addition to the economy, omni-channel is a challenge for retailers as they cope with e-commerce growth of 15% and mobile growth of 40%. David Jaffe cited a few areas in which this revolutionary sea change impacts his firm – from associate ordering systems at POS, shipping direct from stores and customized delivery requests – perhaps providing incremental conversion opportunities. Ascena, with its multiple brands and target shoppers spanning 'tweens to 50-somethings, has no one common solution as it works toward one view of the customer and engaging that shopper on her terms.
As a consumer product company, Skip Hop is retail agnostic and e-tail is another channel with profound impact on its business. E-tailing allows Skip Hop to design for the consumer and get timely feedback, without the intermediary of the retailer. Skip Hop sells its diaper bags and baby goods on Amazon, Target, Babies R Us (.com and brick & mortar). Omni-channel provides for expanded merchandise collections online. "Omni-channel provides a quantum opportunity," said Howard. "Devoting resources to grow the business is our challenge. We've executed incrementally, and maybe we need to think bigger."
Omni-channel has profound implications on retail real estate as e-tailing siphons off sales. Many landlords are delusional and resistant to change. Month after month of marginally productive stores will likely lead to store closings and downsizing at 'C' and 'D' malls. On the other hand, all panelists agreed, e-commerce can't engage the customer the way brick & mortar can. Yet, unless you have a lifestyle brand that provides an emotional experience, Amazon can destroy your business. One attendee in the audience added, "In hard goods, Amazon is going to be the 5,000 lb gorilla,"
Fashion companies still have an edge as Amazon hasn't yet figured out the tactile experience. How do you convey on-line the feel of a dress on your skin? However, the more commodity-like your product, the more vulnerable you are to Amazon's clout. To grow and develop brand awareness requires stores and associates to communicate the culture and brand DNA. Brands are benefiting from globalization and can communicate worldwide, proving that omni-channel is synergistic.
The social aspect of shopping can create a barrier to Amazon making inroads with a customer. Making the customer feel special by putting their name on the fitting room door, or by providing them with their 3rd place where they feel at home (after work and home) like Starbucks, will differentiate retail brands and store experiences, explains Jaffe, and is part of Ascena's strategy.
"Customer engagement is KEY and that's an art we all are learning." John Howard
Social media allows brand managers to create a relationship with each individual customer. The four social media platforms for apparel retailers – Facebook, Instagram, Pinterest and Twitter – provide a new channel for marketing and influencing. Bloggers have also become an increasingly important influence on the consumer. A gradual moving away from traditional marketing towards social media is visible in the marketplace.
M&A heating up in 2013
Richard Schurig noted 57 deals totaling $14 billion in Q3 (year-to-date 153 deals compared to 125 in 2012) and an increasing number of IPOs. John Howard then noted prices are rising with excess liquidity and growing cash balances on the balance sheets of corporate America. He cautioned discipline in a flexible financial convenant-lite environment. At Ascena, they have built a holding company that has centralized 17 different functions, providing the infrastructure that allows the retail brands to focus on their competency. A 'plug and play' strategy was most recently executed with the June 2012 acquisition of Charming Shoppes.