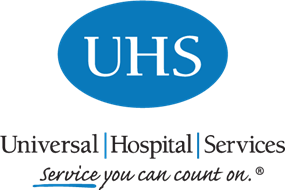 Universal Hospital Services Completes Acquisition by Bear Stearns Merchant Banking and Management
June 4, 2007
Universal Hospital Services, Inc. ("UHS"), a leading provider of medical equipment lifecycle services to the healthcare industry, announced today that it has completed the transactions to transfer ownership and recapitalize its balance sheet. UHS is now owned by Bear Stearns Merchant Banking ("BSMB"), the private equity affiliate of The Bear Stearns Companies Inc. (NYSE: BSC), and UHS management. UHS was formerly owned by the private equity firms J. W. Childs Associates and The Halifax Group and by UHS management.
"Our new partner BSMB, and the flexibility of our new capital structure will allow us to aggressively address the healthcare marketplace and take the level of service and value we provide our customers to a whole new level" said Gary Blackford, UHS' Chairman and CEO.
"We are excited to partner with the management team that has made UHS an industry leader and innovator. We look forward to bringing our financial and healthcare expertise to make UHS an even stronger contributor to the healthcare marketplace," said Robert Juneja, Managing Director & Partner of BSMB, and new board member of UHS. Also joining Mr.Juneja and Mr. Blackford on the UHS Board are John Howard, CEO & Sr. Managing Director of BSMB and Bret Bowerman, Sr. Associate of BSMB.
In connection with the sale of UHS to BSMB and management for approximately $712 million, UHS issued $460 million in bonds, due in 2015. The bond issuance was led by Merrill Lynch & Co., Bear, Stearns & Co. Inc. and Wachovia Securities. UHS also entered into a $135 million line of credit with a consortium of banks lead by Merrill Lynch Capital.