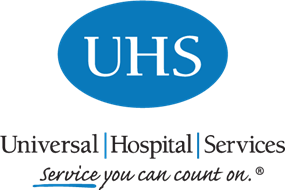 Universal Hospital Services, Inc. to be Acquired by Bear Stearns Merchant Banking
April 16, 2007
Universal Hospital Services, Inc., ("UHS") a leading provider of medical equipment lifecycle services, announced today that it has entered into a definitive agreement to be acquired by Bear Stearns Merchant Banking ("BSMB"), the private equity affiliate of The Bear Stearns Companies, Inc. (NYSE: BSC), for total consideration of approximately $712 million. The Company is currently owned by the private equity firms J. W. Childs Associates and The Halifax Group and by UHS management.
"UHS is a leader in helping hospitals manage medical equipment to reduce costs, improve nurse productivity, and achieve better patient outcomes," said Robert Juneja, Managing Director and Partner of BSMB. "We are excited to partner with UHS management to continue to deliver value to the healthcare marketplace."
UHS CEO Gary Blackford, commented, "We look forward to the resources and knowledge our new partners will bring to UHS and our customers. This is another step forward in transforming UHS from an equipment rental company, to a full equipment lifecycle service company."
The parties anticipate the transaction will close in the second quarter of 2007.
In connection with the transaction, UHS expects to commence a tender offer and consent solicitation relating to all of its 10.125 % Senior Notes due 2011 ($260 million principal amount). Details with respect to this tender offer and consent solicitation will be set forth in the tender offer documents, which shall be furnished at the appropriate time.